Editorially Curated Shops Provide Quick and Easy Showcases of the Best in Fashion
June 27, 2013 — Los Angeles, CA — POPSUGAR Inc., a global media and technology company at the intersection of content and commerce, today announced the launch of ShopStyle Shops, an easy and interactive way to shop online.
Shops is a new feature that allows ShopStyle's 15 million–plus shoppers to browse through uniquely merchandised shopping guides highlighting seasonal trends, sales, designers, and celebrity-inspired looks via ShopStyle.com and through the site's daily email.
Shops will be curated daily by ShopStyle's editorial team, and every week ShopStyle Shops will collaborate with designers, celebrities, bloggers, and stylists to share their personal selections with ShopStyle's millions of shoppers.
ShopStyle's first guest-curated Shop is with celebrity stylist Caley Lawson Rinker, who has worked with Gwyneth Paltrow and Kristen Stewart. Upcoming curators will include designer and influencer Nanette Lepore as well as Julie Sarinana of Sincerely Jules. Additionally, ShopStyle will have curated Shops from major retailers, including Anthropologie and NET-A-PORTER.COM.
"At ShopStyle, it's always been our intention to bring an enjoyable and inspirational boutique experience to shoppers through our strong editorial voice and well-edited assortment. In one seamless shopping experience, we bring together products from hundreds of retailers and thousands of brands. We believe ShopStyle Shops delivers a more vibrant and rich visual editorial journey for shoppers," stated Melissa Davis, EVP of ShopStyle by POPSUGAR.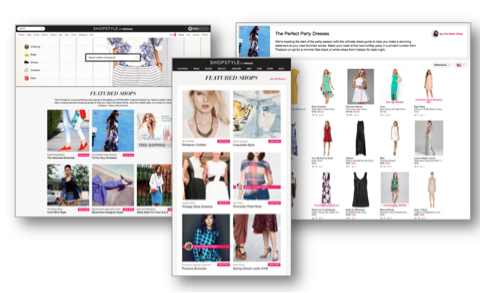 ABOUT POPSUGAR
POPSUGAR Inc. is a global media and technology company at the intersection of content and commerce — online, on mobile, and at your door. POPSUGAR.com is the go-to destination for the biggest moments, the hottest trends, and the best tips in entertainment, celebrity, fashion, beauty, fitness, food, and parenting. In addition to the best original lifestyle content, POPSUGAR's growing portfolio of commerce brands includes ShopStyle, the leading fashion search engine, and POPSUGAR Must Have, a monthly subscription box featuring editor-curated products. Targeting women 18-40, POPSUGAR draws over 20M users worldwide, 50M live and on-demand video views per month, and half a billion in annual retail revenue. POPSUGAR Inc. is a privately held company funded by Sequoia Capital and Institutional Venture Partners with offices in Chicago, Los Angeles, New York, San Francisco, and London. For more information, visit POPSUGAR.com and follow @POPSUGAR on Twitter.