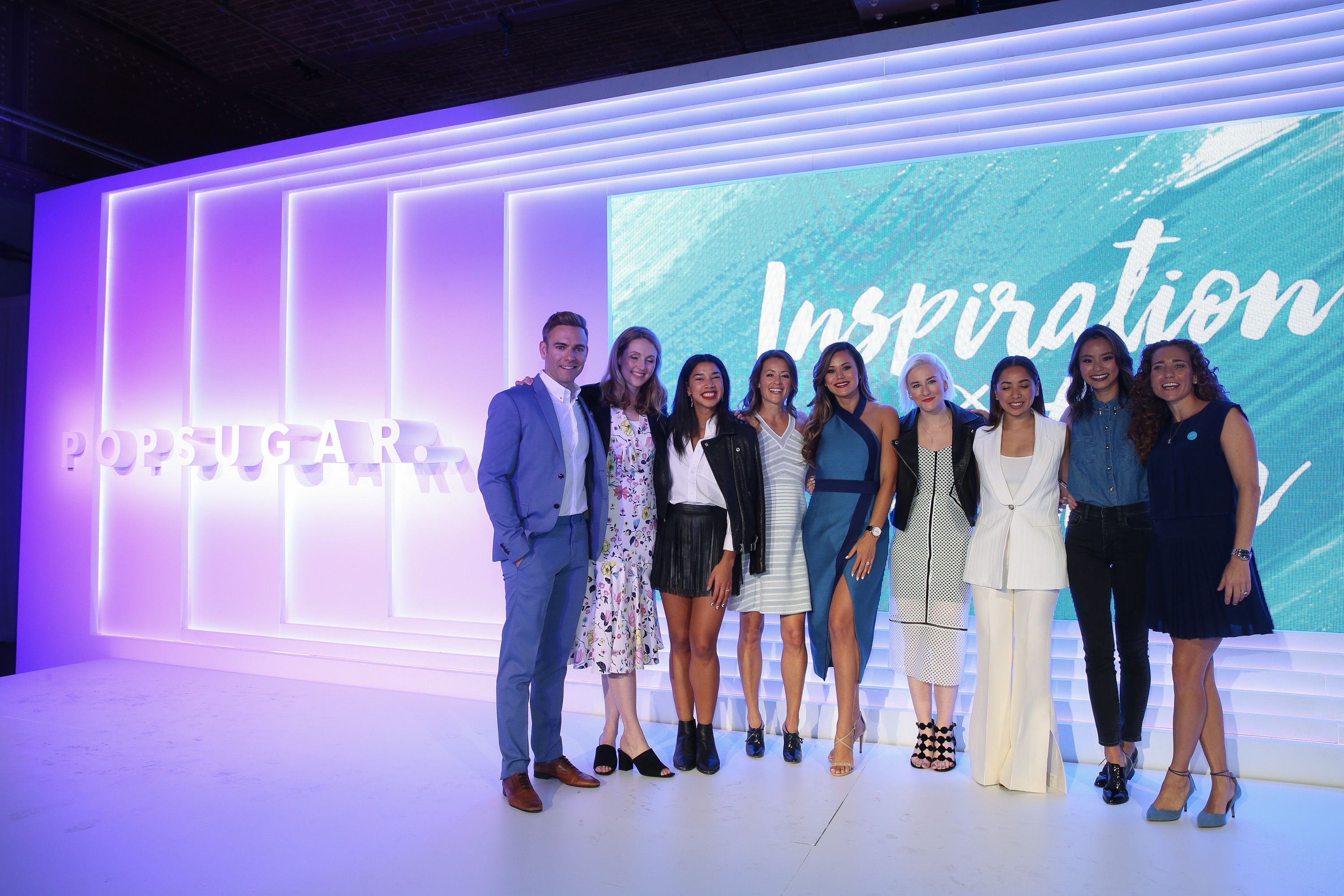 POPSUGAR held its Digital Content NewFront presentation today at New York City's Altman Building. We unveiled an ambitious slate of new series and highlighted its lineup of successful returning franchise series. The diverse offerings explored many of the passion points of POPSUGAR's audience, such as style, food, comedy, healthy living and staying informed. The common thread of POPSUGAR's series is "inspiration meets action" — from getting fit to discovering healthy recipes to becoming better informed about important political issues and sometimes just having that good laugh that creates perspective.
Highlights included new series such as scripted comedies EveryMom (with The Onion) and Cooking Rodriguez (with Broadway Video's Más Mejor); a real-life romantic comedy The Matchelorette (with Rainn Wilson's SoulPancake); pet show Finding Fido: The Dog Who...; fashion and beauty series A Beautiful World (hosted by actress and influencer Jamie Chung), Pretty Unfiltered, and Lens by ShopStyle; POPDOCS, an exciting new 32-part series sponsored by Chevrolet and featuring deeper documentary content; and a new trending wellness channel, Glow by POPSUGAR.
"POPSUGAR delivers exciting programming that moves young women," said Lisa Sugar, POPSUGAR founder and president. "We motivate our audience with stories that have meaning and enrich and expand their world, from beauty to fashion, fitness, food, pop culture, politics, parenting, news, and more."
Since our launch 10 years ago, POPSUGAR has become the leading independent media company with original lifestyle content for young women. Today, POPSUGAR reaches a global audience of 100M and garners 1.5B monthly content views. POPSUGAR is also a leader in online lifestyle video, with 166M monthly views and growing at an annual rate of 300%.
"Video is the most powerful storytelling medium in existence," said David Grant, president of POPSUGAR Studios. "We know what pushes the buttons of our audience — we have data in droves — and we believe in using that power to provoke them to get informed, get involved, and live their best lives.
POPSUGAR also announced that it has partnered with LeanIn.Org, Sheryl Sandberg's female empowerment nonprofit, to launch a campaign in support of Lean In's largest public awareness campaign of 2016. The content partnership will bring the messages of Lean In to POPSUGAR's global audience, most of whom are young women who care passionately about Lean In's mission of gender equality. The campaign will feature a video series produced by POPSUGAR in partnership with Put Your Pretty On (PYPO), the digital female-focused comedy platform launched by multiple-Emmy Award winner Stephanie Laing, who was an executive producer/director of HBO's Veep and Eastbound & Down and who is executive producing HBO's upcoming Vice Principals. The videos will leverage Lean In's research and message, POPSUGAR's trademark fun and informative style, and PYPO's mission of comedy that resonates.
In addition to its new slate of programming, POPSUGAR confirmed that all existing franchise series are returning, including many of those announced last year at its NewFronts show. Returning series include POPSUGAR Rush, Find Your Happy, Eat the Trend, Get the Dish, We Spy Style, Beauty Junkie, Hannahgram, Knock Knock With Rachel Antonoff, and Class FitSugar. These series are sponsored by such brands as Target, Revlon, Hilton, Adidas, and Lowe's.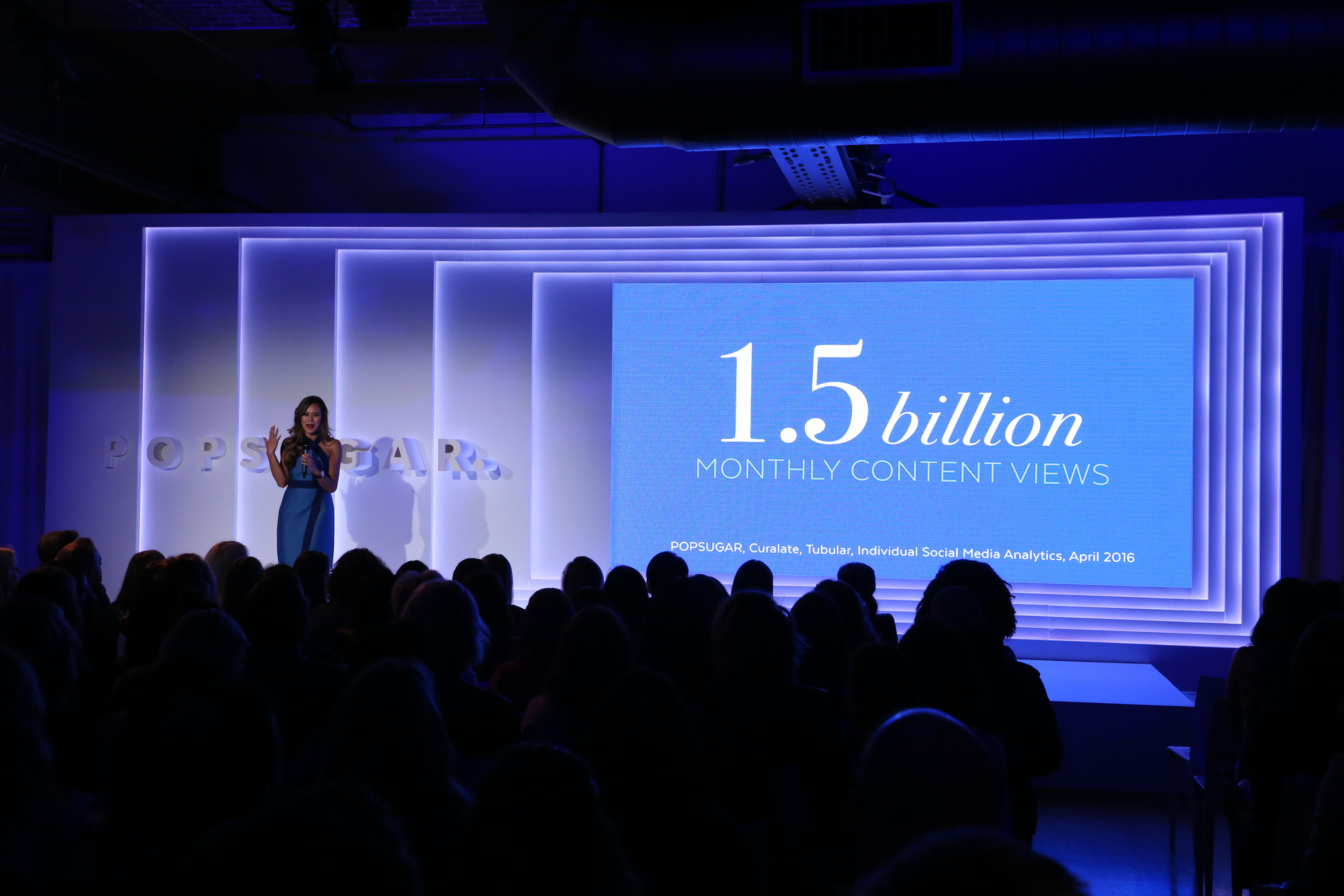 Details for POPSUGAR's roster of new programming and initiatives for 2016 includes the following:
COMEDY:
Cooking Rodriguez
POPSUGAR has expanded its successful relationship with Broadway Video through Más Mejor, Broadway Video's new premium comedy studio powered by Latino voices, in partnership with POPSUGAR Latina. The first project is a scripted comedy, Cooking Rodriguez, created by Marlena Rodriguez (writer on season 2 of Unbreakable Kimmy Schmidt). COOKING RODRIGUEZ follows Penelope, an aspiring YouTube host, as she cooks her way through her grandmother's Cuban recipes and, despite her best efforts, falls victim to kitchen mishaps and her grandmother's sharp tongue.
EveryMom
EveryMom is POPSUGAR's first project developed through a new partnership with Onion Studios. The scripted show is from the development arm of The Onion, the nation's leading comedy and news satire brand. The comedy series is about America's most popular new mommy influencer, who is secretly a single, childless 27-year-old dude living in Brooklyn, NY. The show both satirizes mommy influencer culture and millennial entitlement while celebrating motherhood. The series was created by The Onion's editorial director, Josh Modell, who was inspired to create the series based on the experience of having his first child.
The Matchelorette
The Matchelorette is a real-life romantic comedy that follows two best friends as they right swipe enough matches to stage their own DIY version of a Bachelorette-style competition. That's right, from their tiny bungalow, the search for love (or at least a viable crush) is on . . . unbeknownst to the suitors. The series is produced in partnership with SoulPancake, Rainn Wilson's award-winning media brand that has become the most recognized name in meaningful entertainment by creating inspiring, uplifting, shareable, and socially relevant content about the human experience.
PETS:
Finding Fido: The Dog Who…
Finding Fido: The Dog Who… tells the emotional true stories of dogs who've changed their owners' lives forever. At the end of each episode, the hero dog will be photographed by famous dog photographer Seth Casteel, capturing a one-of-a-kind image and presenting it to the owner. The online series is inspired by cable network Z Living's (which has a TV series partnership with POPSUGAR) upcoming television show Finding Fido, produced by 3 Ball Entertainment (The Biggest Loser). The series will also partner with organizations to promote awareness for dog adoption.
BEAUTY:
A Beautiful World
When it comes to beauty, every culture plays by its own rules — and POPSUGAR's audience is fascinated with them. In A Beautiful World, actress and blogger Jamie Chung will explore the beauty rituals that have come to define cultures all over the world. From skin care practices handed down through generations to new and exotic regimens women swear by, Jamie will uncover the world's best beauty secrets that millennial women all over the world look to for inspiration.
Pretty Unfiltered
Pretty Unfiltered is a new series based on the belief that a key to beauty is embracing yourself and celebrating what makes each of us unique. In Pretty Unfiltered, some of the internet's most influential women, including Lilly Singh, Shay Mitchell, Grace Helbig, and Felicia Day — and many more — join host Kirbie Johnson to share their personal stories, insecurities, and struggles all in the name of championing differences and learning to find acceptance.
GLOW by POPSUGAR
Glow by POPSUGAR is a new brand and channel focused on well-being that will offer content to inspire and help our audience to glow by eating healthier, exercising more, and lowering stress — and having fun doing it all. Videos like our popular Flat-Belly Salad, 3 Smoothies For Weight Loss, and Workout Snacks Under 200 Calories are all crafted to be easily shared and incorporated into your life. Look for our new Glow channel on Facebook, YouTube, Snapchat, Instagram, and, of course, POPSUGAR.
FASHION:
Lens by ShopStyle
In this new series, audiences will follow our style-hunting tandem on the road as they discover and film what fashion looks like — right now — all across the country. They will capture everyone from real girls to top influencers for the first-ever all-video fashion Instagram. You'll be able to see the looks immediately, in video, on the Lens by ShopStyle Instagram, as well as watch the series to experience what it's like to shoot the world's most interesting fashion. This is the first original video series from POPSUGAR sister brand ShopStyle, the powerful digital shopping platform.
NEWS AND CULTURE:
POPDOCS
POPDOCS is POPSUGAR's foray into documentary filmmaking, news, and inspiring long-form reporting. The first theme — Women Breaking Barriers — is a 32-part series sponsored by Chevrolet. Our approach to storytelling focuses on game-changing talent, a deeper exploration of mainstream trends and under-the-radar movements, and important events and themes that are relatable and relevant to POPSUGAR's young female audience.
Know Your Vote
POPSUGAR believes it's critical for its audience to be informed and engaged in issues that will impact their lives — and the audience has responded strongly. As we progress toward an election that will have a major impact on the lives of young women, we are launching Know Your Vote, our reporting initiative focused on delivering the facts and important stories around the presidential election. Further, as part of POPSUGAR's shift to including issue-related content, the company announced a partnership with Rock the Vote focused on registering millennial women to vote in the presidential election. Our goal is to get 1 million people registered to vote. And we'll do it!